Mar 3, 2018 (Past event)
---
The name may have changed, but Snowshoe for the Cure is still the same funky intersection of pink, happy and hope you have become used to over the years. Susan G. Komen Colorado has partnered with the Town of Frisco's Nordic Center to continue the tradition of snowshoe fun and community spirit which has raised over 1 million dollars since its inception to fight breast cancer. Susan G. Komen Colorado has always been a partner of this event, but for the 3rd year they are bringing their own passion and considerable love of events to Frisco as a full fledged event organizer.
Friday, March 2, 2018
5:00pm-8:00pm:
Join us for Frisco's Pink Party for packet pick-up and a welcome to Frisco reception. Snowshoe for the Cure participants are welcome to experience the zany pinkness and community spirit that Frisco is known for when they pick up their race bibs, race goody bags, play games to win prizes, eat some delicious appetizers, and get the chance to see what Frisco has to offer at the pink dappled merchant trunk show.
Saturday, March 3, 2018
7:30am:
Registration/Packet Pick Up open – Day Lodge (Located next to the Nordic Center)
Pancake breakfast open
Expo open to participants
9:00am:
Registration/Packet Pick Up closed
Pancake breakfast closed
8:45am start: Lil Stomper Dash
Hey Lil Stompers! This is your chance to show your parents what you're made of! Lil Stompers (kiddos 12 and under accompanied by a registered adult) are welcome to join us at the start line before the 5K start. This short course is perfect for beginners and simple for all kids to take part in. FREE with a registered adult. Kiddos still need to be registered. Can be done online or at packet pickup.
9:00am start: Self-timed 3k
Feeling a little feisty and in need of some wide open spaces to do some running on your snowshoes? If so, the self-timed 3k might be just the ticket for your speedy self.
9:05am start: The 5K Walk
Well, you're quite ambitious! This trail is similar to the 3K, but with what we like to call "an added bonus!"
9:10am start: The 3K Walk
Join us and hundreds of your fellow snowshoeing friends at the beautiful Frisco Nordic Center! The awesome folks have groomed the trails just for you. Fear not, there will be volunteers along the way keeping you on track. Make sure to thank them as you're stomping on by…high-fives are welcomed and accepted.
10:00am:
Closing Ceremony Starts
Registration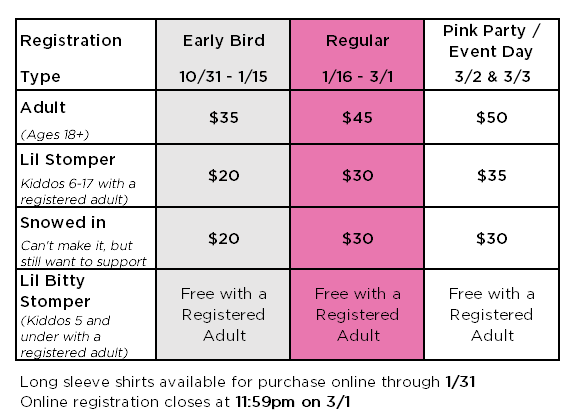 Snowshoe for the Cure Perks
Demo Tubbs snowshoes for FREE! (First come, first served. Regularly $18 to rent)
A fantastic goody bag, filled with swag
Trail access exclusive to Snowshoe for the Cure participants
You'll be entered to win fabulous swag and prizes from sponsors and partners
Snowshoe for the cure participation bib
Post event celebration with entertainment and sponsor booths
The fulfillment of taking part in stomping out breast cancer and a unique opportunity to join forces with Komen Colorado to fight breast cancer in your community.